THE MISKEY MOUNTAIN BOYS
​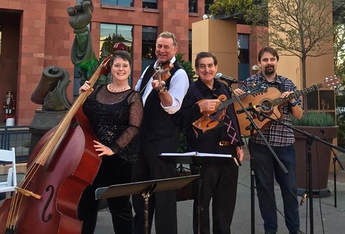 A bluegrass band like no other, THE MISKEY MOUNTAIN BOYS features the world class musicianship of
Michelle Lynskey, John W. Marshall, Evan J. Marshall, Alex Finazzo and introducing our newest member, Deborah Kollgaard.
Individually, they've performed all over the world, and at such events and venues such as the HOLLYWOOD BOWL, THE DISNEY STUDIOS, POPS SYMPHONY ORCHESTRAS, THE TOURNAMENT OF ROSES and the UNITED ARTISTS THEATER in Los Angeles. They have also been featured performers in radio, television and film, including THE ACADEMY AWARDS, A PRAIRIE HOME COMPANION, and HBO'S series, BIG LOVE.

Their combined talents and expertise create this incredible, one-of-a-kind band, that seamlessly blend jazz, classical and swing with traditional Bluegrass into a new genre they lovingly call Classgrazz. Featuring
uniquely
"Miskified" musical arrangements,
innovative elements, driving Bluegrass and powerhouse vocals, this show blends mastery with laughter, joy and camaraderie to create an unforgettable experience for their audiences.
---
UPCOMING CONCERTS


COFFEE GALLERY BACKSTAGE, Altadena CA April 14, 2018 7pm / $20 tickets
KINGSLEY SESSIONS CONCERT SERIES, Pomona CA April 28, 2018 7pm / $20 tickets
LIVING TRADITIONS CONCERT SERIES: Anaheim, CA Sept 15, 2018 7:30pm / $18 tickets

MISKEY BEFORE BREAKFAST
​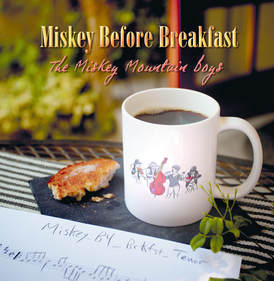 From the very first resonant bowed bass opening of the title track, to the fast and furious final notes of the cd,
MISKEY BEFORE BREAKFAST
takes listeners on a musical journey they'll never forget. From classic bluegrass to classical music, from the sounds of swing to blues and jazz, each track carries the distinct signature that only this band can deliver. Their unique arrangements and infectious energy "Miskify" each tune, providing that innovative and creative flavor that leaves the listener happily satisfied.
One of the many things this recording successfully captures is the high energy and intimate feel the band is known for. Other unique elements that are featured on this cd include incredible slap bass, energetic twin fiddle numbers, mellifluous mandolin solos, drum-like percussion on the bass, and awe inspiring vocals.
Featuring audience favorites as well as 4 never-before heard tracks,
MISKEY BEFORE BREAKFAST
is sure to delight current fans, as well as inspire a new following of folks who will love the creativity and musicianship of the Miskey Mountain Boys.
​
---